Preventative Dentistry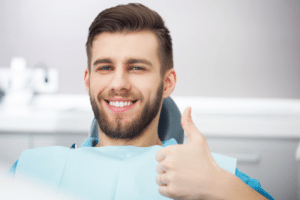 Everyone is going to have teeth problems at some point in their life. The extent of those problems, however, can be diminished with preventative dentistry. Preventative dentistry is done to help prevent dental problems such as infection, disease, and any pain that may come from misaligned teeth. Dental Hygiene is important to give you the smile that you want and the confidence you need. Good dental hygiene will give you a healthy smile that will last you over the years, and here at Aspen Dental, there is nothing more that we want for you. Our hygienists are expertly trained on how to care for your teeth and give you a great dental experience. Our team has never been more ready to serve you and your family.
During your regular appointment at the dentist, you can expect x-rays and oral evaluations to be taken followed by a deep cleaning on all of your teeth. The cleaning includes the removal of plaque, polishing, and flossing. The dentist will check for any cavities, gum disease, decay, and make sure nothing is out of place or causing you pain in your mouth. Other services may include the application of fluoride, sealants, spacers for kids, and instruction for better brushing and flossing. Longer procedures and oral surgeries such as root canals and fillings are not considered to be preventative dentistry. We do our part to make sure you have the best experience in our office and walk away with a healthy smile. With the most qualified team in Cherry Creek, Aspen Dental has all of this to offer and so much more. 
Preventative Dentistry should become a regular habit in your life. It is one of the best ways to ensure good oral health. But oral health isn't just about brushing and flossing, it also comes down to other habits such as eating good foods and not using your teeth to open any packaging. As you make your teeth a high priority in your personal life, we can help you improve your smile even more. Reach out to us at  (720) 438-4208 to ask us any questions. We would love to have you and give you the best dental experience possible when it comes to preventative dentistry in Denver, Colorado.